If you have chipped, broken, uneven or missing teeth, you may need to undergo a partial or full-mouth restoration. We offer several advanced solutions for replacing or repairing teeth, from single crowns to a full-mouth reconstruction.
CEREC®
The CEREC® system makes it possible to do one-visit crowns and veneers – no more temporaries, no more filling your mouth with gooey impression material; just shorter, faster visits when needing crowns and veneers.
Unlike the traditional methods used for dental restorations, CEREC® requires fewer injections, less drilling, and less time out of your busy schedule. A CEREC® tooth restoration isn't just convenient, it's also healthy. Instead of the amalgam, gold- and silver-colored mercury fillings of the past, CEREC® uses stronger, natural-colored, ceramic materials.
Contact us today to learn more about CEREC®.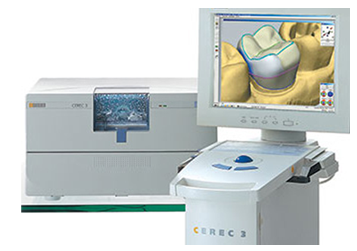 Additional Services We Provide:
Partial crowns (caps)

Full crowns

Inlays / Onlays (indirect fillings)

Fixed bridge (fixed partial dentures)

Dental implants