Quality, Comprehensive Care
Kelli Junker, DDS provides comprehensive dental services, from cleaning and oral examination to full-mouth restoration. Our experienced team of dentists and hygienists offer the highest quality general dentistry, cosmetic dentistry and pediatric dentistry.
We present all options and allow you, with the doctor's guidance, to choose the treatment that best suits your needs. We will equip you with the information necessary to be an informed decision maker, and we encourage you to ask questions and express concerns regarding your treatment.
At Kelli Junker, DDS we place an emphasis on preventive care. Regular examinations include cleaning, prophylaxis, digital x-ray, periodontal probing and oral cancer screening. We practice "minimally invasive dentistry," utilizing periodontal, restorative and endodontic procedures, when indicated, to preserve as much of your natural tooth structure as possible.
We employ the latest state-of-the-art technologies in our dental practice such as an intra-oral camera, which is an exceptional diagnostic tool and enables our patients to view their teeth and gums on the screen.
We want to be your trusted guide and partner in the management of your dental care. When it comes to your health and your smile, you should accept nothing less!
CLEANING & PREVENTIVE CARE
At Kelli Junker, DDS we perform a thorough cleaning and dental exam for your regularly scheduled check-up. The frequency of your check-ups is customized to your individual needs. Our preventive care regimen includes the following services:
Digital x-ray

Oral cancer screening

Fluoride treatment
Bite equilibration

Cleaning & Prophylaxis (polishing)
Sealants

Pocket measurement and charting (periodontal disease screening)
If you have chipped, broken, uneven or missing teeth, you may need to undergo a partial or full-mouth restoration. We offer several advanced solutions for replacing or repairing teeth, from single crowns to a full-mouth reconstruction.
CEREC®
The CEREC® system makes it possible to do one-visit crowns and veneers – no more temporaries, no more filling your mouth with gooey impression material; just shorter, faster visits when needing crowns and veneers.
Unlike the traditional methods used for dental restorations, CEREC® requires fewer injections, less drilling, and less time out of your busy schedule. A CEREC® tooth restoration isn't just convenient, it's also healthy. Instead of the amalgam, gold- and silver-colored mercury fillings of the past, CEREC® uses stronger, natural-colored, ceramic materials. Contact us today to learn more about CEREC®.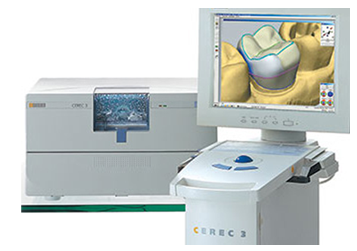 Additional Services We Provide:
Partial crowns (caps)

Full crowns

Inlays / Onlays (indirect fillings)

Fixed bridge (fixed partial dentures)

Dental implants
ORTHODONTIC PROCEDURES
If your teeth are misaligned, you may be a good candidate for Invisalign, which is the clear alternative to metal braces. We offer a FREE Invisalign consultation prior to you making a decision to use Invisalign.
To suit your orthodontic needs, the professionals at Kelli Junker, DDS will create the following mouth guards / devices:
Night guards for Temporomandibular Joint Disorder (TMJ / TMD)

Hard acrylic
Semi-hard acrylic

Anti-snoring devices

Sports guards
ENDODONTIC PROCEDURES
Root Canal Treatment
When pulp tissue becomes infected, non-vital, or hypersensitive, endodontic treatment can save a tooth, eliminate pain and prevent infection. Treatment involves removing the pulp tissue, and cleaning, disinfecting, sealing and filling the canals. This is usually accomplished in one or two appointments. Antibiotics, if necessary, will be prescribed.
We perform many oral procedures in our office, utilizing local anesthesia and, when indicated, oral sedation. Patients requiring general anesthesia can be referred to a local oral surgeon. Some examples of the minor oral surgeries we are qualified to provide include:
Biopsy

Extractions including wisdom teeth

Bone grafting for implants
Frenectomy

Cyst removal

Foreign body removal

Soft tissue repair
SEDATION DENTISTRY
What is Sedation Dentistry?
Sedation (sleep) dentistry makes dental work easy and comfortable. Sedation is different from anesthetic injections. The technique is easy, safe and requires no needles. We will thoroughly review your medical history and closely monitor your vitals during your appointment. Best of all, the medications create such a comfortable experience that most patients do not remember the visit; it is as if they slept through the treatment. In reality, oral sedation dentistry maintains a level of consciousness in the patient for safety and cooperation.
To learn more, visit SedationCare.com.
Benefits of Sedation Dentistry
One of the major benefits of sedation dentistry is that people often feel like their dental procedure lasts only a few minutes, when in fact it might have taken hours to perform. Therefore, complex dental procedures such as smile makeovers or extensive rebuilding procedures that normally require multiple visits can often be performed in fewer appointments.
FAMILY & CHILDREN'S DENTISTRY
Kelli Junker, DDS offers exceptional dental care for families with children of all ages. Our friendly staff and gentle approach to dentistry help children feel at ease with our procedures. We are committed to providing a comfortable environment and an enjoyable experience for all of our patients.
Our staff teaches proper dental hygiene to all of our young patients to ensure good habits are established early in life. We also work with parents to make sure they understand how to properly brush their child's teeth.
We encourage parents to schedule their child's first dental appointment by the age of three. From age three on, it is imperative that children see a dentist on a regular basis.
SLEEP APNEA DENTAL APPLIANCE
If you or a loved one snore or have difficulty sleeping at night, we encourage you to call our office and have a sleep study done to rule out this potentially fatal condition. Or, if you have been diagnosed and are seeking alternative solutions for obstructive sleep apnea or sleep disturbed breathing issues, call us to explore a sleep apnea dental appliance today! We have different appliances for different needs.
The Sleep Deprivation Reality
We spend approximately 1/3 of our lives asleep. The impact of sleep deprivation affects nearly all of the body's systems. Further, sleep deprivation worsens almost every disease (ie: diabetes, cardiovascular disease, immune diseases). Dropping from 7 hours of sleep per night to 5 hours creates double the risk for cardiovascular death.
Reports estimate approximately 20% of adults suffer from sleep apnea. Yet sleep disorders remain undiagnosed and unidentified 90-95% of the time. The spouse of someone with a sleep breathing disorder (snoring or apnea) looses an average of 90 minutes of sleep per night. Nearly 25% of partners report sleeping in different rooms because of snoring partners.
Regrettably a recent survey showed that 76% of physicians who were not sleep specialists do not screen their patients for sleep breathing disorders and therefore do not refer their patients for testing or treatment. It is time for dentistry to step up to the plate. Lives can be significantly improved… and saved.
Lack of Sleep Can Be Harmful to Oral Health
A recent study by the American academy of periodontology showed that lack of sleep ranked just #2 under smoking as the lifestyle negatively affecting oral health. Research is ongoing but has so far shown that sleep breathing disorders are implicated in the creation or exacerbation of cardiovascular disease, cerebrovascular disorders, impotence, depression, poor memory, menstrual irregularities, weight gain and bruxism (teeth grinding).
Signs and Symptoms of Sleep Apnea:
Unexplained sleepiness

Gerd, heartburn

Depression, mood changes

Unexplained weight gain

Increased blood pressure

Stroke

Heart attack

Dry mouth
LASER TREATMENTS AND LASER ASSISTED PERIODONTAL THERAPY
Lasers are bactericidal, reduce inflammation and support the body's healing mechanism. They can even kill and disrupt viral particles such as herpes. Hence lowering the micro count in your mouth and in aerosols.
Can treat apthous ulcers and herpes labialis. Stopping the outbreak or significantly shortening its course. Reducing the need for prescriptions such as valtrex

Reduce or eliminate bacteremia for those who premedicate due to prosthetics and heart conditions.

Root desensitization so you can enjoy cold beverages and suffer less

Painless and no surgical frenectomys on babies-adults who may suffer from being tongue tied or have bothersome diastemas